"Life Itself Is The Most Wonderful Fairy Tale." – Hans Christian Andersen
WHAT IS LIFE?
A four letter word 'LIFE', it is the blessing for all humans to live it to the fullest. Life is like the ocean. It can be calm or still, and rough or rigid, but in the end, it is always beautiful. Life is like a glass half empty and a glass half full, how we are going to see it will make all the difference.
WHAT IS PERSPECTIVE OF LIFE?
Perspective of Life is the way people see things including all their personal experiences. Life is 10 percent what we make of it and 90 percent how we take it. As the coin has 2 sides, a head and a tail in the same way people prefer to have different perspectives in different situations of their lives.
LIFE TO BE SEEN FROM DIFFERENT PERSPECTIVES
Just like the example given above with the glass half empty and half full, life mainly includes the way people see things. Following are the situations people face in regard to their life perspectives-
THINKING TOO MUCH- We all have a very bad habit of stressing over the small things that happened to us. We even over think the things that have happened a long time ago. Live on 5/5 rule- If it's not going to matter in 5 years don't spend more than 5 minutes being upset about it. It's our life we should be thankful and live it to the fullest.
EXAGGERATING THE NEGATIVES- We can either sit or criticize about life being unfair to us or can do something about it. We can see rejection as a redirection. In order to get good things to get to us we should believe that positivity overpowers negativity. So, it's time for us to believe that everything happens for the reason. If you are struggling with bad days do keep in mind good days are on the way. So, get out from your bed and move forward to achieve the impossible as the word itself says I am possible.
FEELING OF FEAR- Fear is the only thing that dampens our success. We fear the first step and it's always the hardest. The feeling of fear stops us from growing, evolving and progressing. Everyone has different perspectives in regards to 'FEAR'. Some thinks its "Forget Everything and Run" and others "Face Everything and Rise". It's all our choice what fear actually is. We only need is the way to look at the things and definitely the things we look at will change. Fear is just a roadblock to our beautiful endings. So, stop complaining and start doing.
AFRAID OF CHANGE- Comfort zone is one of the favorite zones we prefer to live in. We are afraid that we are going to lose, that's why we love our small zone i.e. our comfort zone. Yes, getting out of comfort zone may be tricky in the beginning, chaotic in the middle but it's awesome in the end because it shows you a whole new world. So, get out of your comfort zone and conquer the world by accomplishing your dreams.
FINDING HAPPINESS IN PEOPLE- Happiness is a state of mind, it's the way we look at things. We live in the world trying to impress people or want to live their hypothetical lives. The first step of being happy is to believe that "YOU" yourself is going to make all the difference. If someday "YOU" doubt yourself go look in the mirror and you will only see is "YOU" because as long as you believe in yourself there will always a way for you.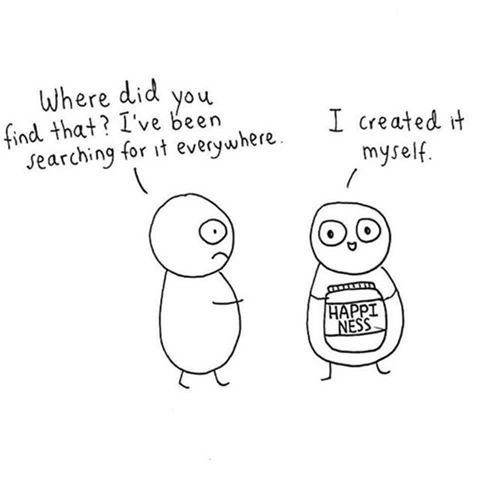 DEFINING OUR PURPOSE- No one is born without a purpose. Yes, it's right. We think that we don't have a dream or any purpose to fulfill. But it's completely wrong. The purpose is unique for everyone, what we identify as our path must be different for others. Sometimes the reason for not finding the right answers is we are not looking in the right direction. Once we find the right direction the suspense or curiosity of finding the purpose will be fulfilled.
RUNNING A RAT RACE – Life is a rat race. We only want is to be number one in all aspects of our lives. But the thing is there is nothing as 'number one' as we all are unique in our own way. It's all about the priorities that we actually want to achieve. So, work harder to see the fruitful results of your beautiful endings.
JUGGLING BEING CALLED AS AN INTROVERT OR AN EXTROVERT-
I am peace. I am wild. I am both at the same time- Ambivert
Juggling between being called an Introvert or Extrovert but the reality is we all are an Ambivert- half Introvert and half Extrovert. Playing hide and seek with the strangers and playing cards with the people we know. The Introvert in front of the people we don't know and love to chit chat in front of our loved ones. So, it all remains in our mindset what we actually are. Now, happily call yourself as an Ambivert.
Life is a beautiful gift. It's only given to us once. Never compare your journey with anyone. It's your life, live it with happiness and joy. Do keep in mind no matter how slowly you are reaching your goals; you are still ahead of everyone who isn't even trying. Difficulties will come to stop you but don't forget they have hidden potential. It doesn't mean you are doing something wrong it's just that you are moving in the right direction.
So, Go out and follow your dreams. Don't forget to take the pictures.


"MIRACLES HAPPEN EVERYDAY, CHANGE YOUR PERCEPTION OF WHAT A MIRACLE IS AND YOU'LL SEE THEM ALL AROUND YOU." – John Bon Joyi
STAY HOME, STAY SAFE AND STAY HEALTHY.