"What you wear is how you present yourself to the world, especially today when human contacts are so quick. Fashion is instant language." — Miuccia Prada
Elliott Abrams says that "First impressions matter. Expert says we size up new people in somewhere between 30 seconds and 2 minutes."
A job interview is your opportunity to make a great impression on your potential employer. Dressing for success is a major part of the interview procedure. People tell you to dress for success. To dress for the job you want, not the job you have. Makes sense because as we were taught from the very beginning of our career 55% first impressions are determined by the way you dress and walk through the door.
Your attire plays a very vital role in your interview process. If you are wondering, what to wear to an interview, the very prominent thing to keep in mind that you should look professional and polished.
Some ideas about what to wear to an interview:
1.Wear Navy blue jackets or blazer for unlimited options:
A navy blue jacket or blazer looks great paired with a simple blouse and shirt. It's a staple blend that you can wear with khaki pants, a khaki skirt, and dark-wash jeans in a casual workplace or to a casual interview.
A matching skirt or slacks, or a khaki skirt or dress pants, balance the outfit. A khaki skirt is a decent addition to your working wardrobe since it very well may be worn with a variety of tops.
2. Trail with Button-down shirts:
You don't have to be bored with Button-down shirts and also you do not need to restrain yourself with basic colors white, blue or pink version. You can try different things with fabrics, like sheer silk chiffon here. Try being creative with colors as well. This shirt's colors work admirably, as it's more fascinating than the usual colors.
Things you should keep in mind while purchasing this shirt:
The Neckline should be modest.
Make sure your bra is covered.
Avoid showing cleavage.
3. Look for Intriguing Blouses:
Search interesting blouses with the bow, layers, etc. which makes for an elegant look and also be worn with a skirt, slacks, or pants. You can also add a skinny waist belt for a touch of detail that makes a top pop. A simple black pencil skirt is a good option for a business look and also can be worn with any color blouse.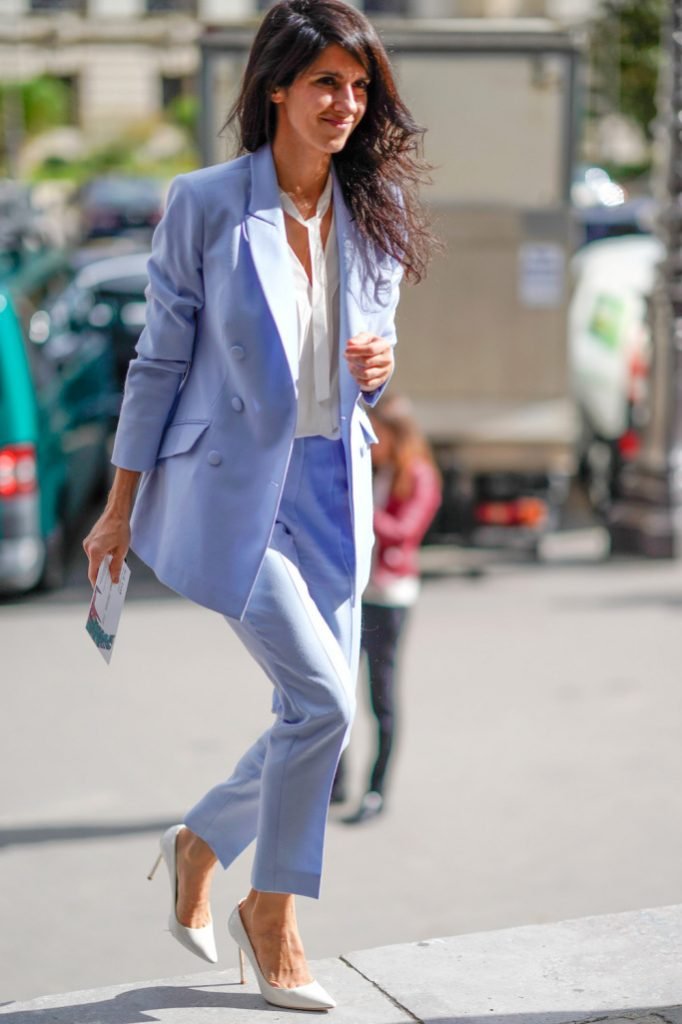 4. Try Menswear with Khaki blend and Match-suit:
Menswear- roused with a khaki blazer is an incredibly adaptable piece to have in your wardrobe. You can wear it with a button-down shirt or blouses. It looks great with a matching skirt or pants for a casual interview.According to owner of Albeli Banarasi Saree Shop– You can also wear lavish & lightweight sarees in your job interview.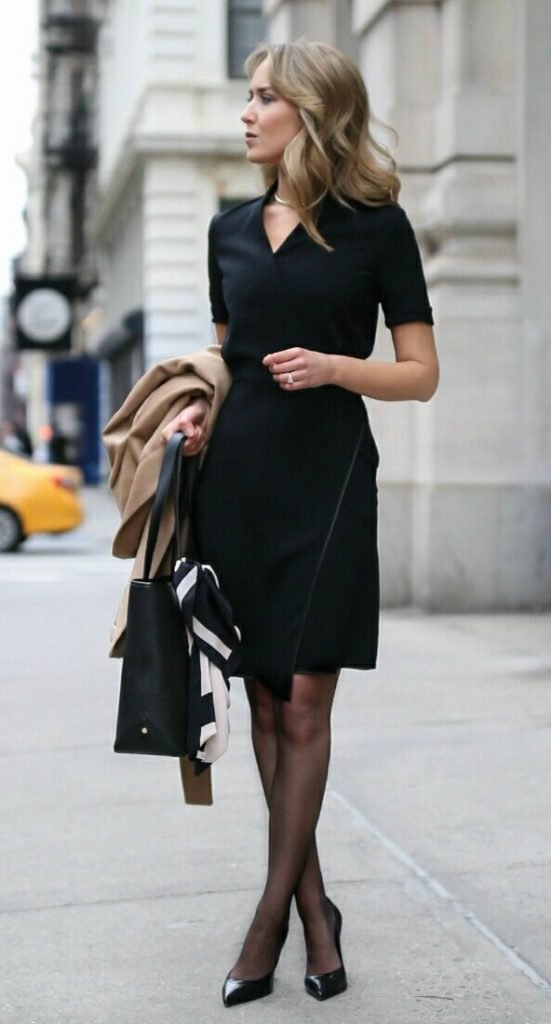 5. Black dress and tights:
Black dress is essential for every woman. It makes your wardrobe classy. The black dress goes with any occasion either its interview or party. Invest in a quality dress that skims the knee. A dress with organized fit and pleasant details is professional yet still modern. To give your outfit some life, pair the dress with nice textured tights and finish your look with a pair of black heels for a classic, timeless proper business look.
6. Pair a sweater with Black Dress Pants:
A pair of classic black pants are an essential part of women's wardrobe. When you have a decent pair of nicely fitted black pants, it's easy to dress them up or down. You can dress them in button-down shirts or blouses or a blazer for a professional look.
With the touch of creativity, black pants do not have to look boring. To make them intriguing you can pair them with a sweater.
7. Pair up a V-Neck sweater with Pants:
What's great more than pairing a V-neck sweater with pants? Yes, you can pair up a V-neck sweater with your pants or slacks. You can wear blouses or button-down shirts with a V-neck sweater to give a versatile look. And also you can wear a pencil skirt or pants or slacks with a V-neck sweater and finish the look by wearing formal heels.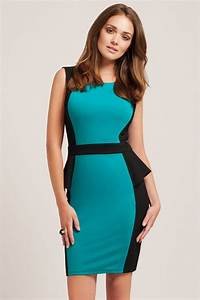 8. Statement dress:
With Statement dress, you don't have to try to include jewelry or embellishments –as the dress justifies itself with real evidence. When working with bright colors, however, ensure the rest of the dress is modest or humble. It's very important to ensure that the neckline or hemline is appropriate. Try to evade short dresses and low-cut, revealing neck areas.
Make sure that the dress covers you appropriately – neckline and hemline should not be revealing. All you have to adjust a dress like this is a pair of black heels and black ballet flats.
Some tips to dress up for a job interview:
Don't be too loud, opt for sophistication.
Be prepared.
Be smart with footwear.
Consider a tailored blazer or jacket.
Keep the environment of the company in your mind.
Be well-groomed.
Best Hairstyles for a job interview:
When you go for an interview, the interviewer is going to notice everything about your appearance, including your hair, cosmetics, and clothing. So it's important how you style your hair for an interview.
How you can style your hair for a job interview: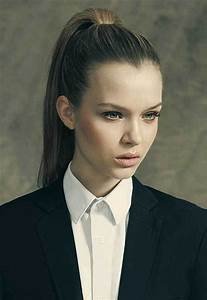 1.Ponytail:
There's a question which may arise- is a ponytail count informal look? So, yes it very well maybe, in the event you pick a polished look. Ponytail gives an elegant look. You can go for smooth styling and to avoid frizzy hair you can use anti-frizz product and styling cream to tame flyways.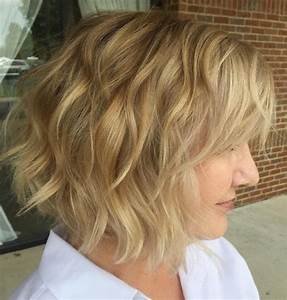 2. Short and natural waves:
A short haircut also considered a formal look. So, if you have a short haircut, you don't need to be worry. You can also try some natural waves to give a more beautiful look to your hairstyle. Natural waves in hair give an elegant look and also goes with many dresses, pattern, and colors.
A short haircut minimizes the maintenance and speeds up your morning schedule. It also lends a unique, edgy appeal to your look.
3. Make the bun:
Need a basic yet stylish haircut for your job interview? Pull your hair back with smoothing cream and wind into a bun.
A side bun is a fun however elegant approach to add some energy to your hairdo. Regardless of whether you wear the bun wavy, messed up, or straight and smooth, place it at the nape of your neck.
If you are going for a classy look or classic vibe then you should definitely go for this type of bun. This is a timeless look but perfect. Just pull your hair back with smoothing cream and twist into a low bun.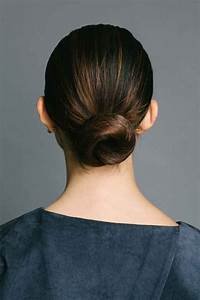 The high bun moves the hair up without going outdated. This type of bun gives a great look and never goes out of fashion. To start with clear your high on your head, leaving one piece free and twist into a bun. You can wear high bun with a formal dress as well as casuals.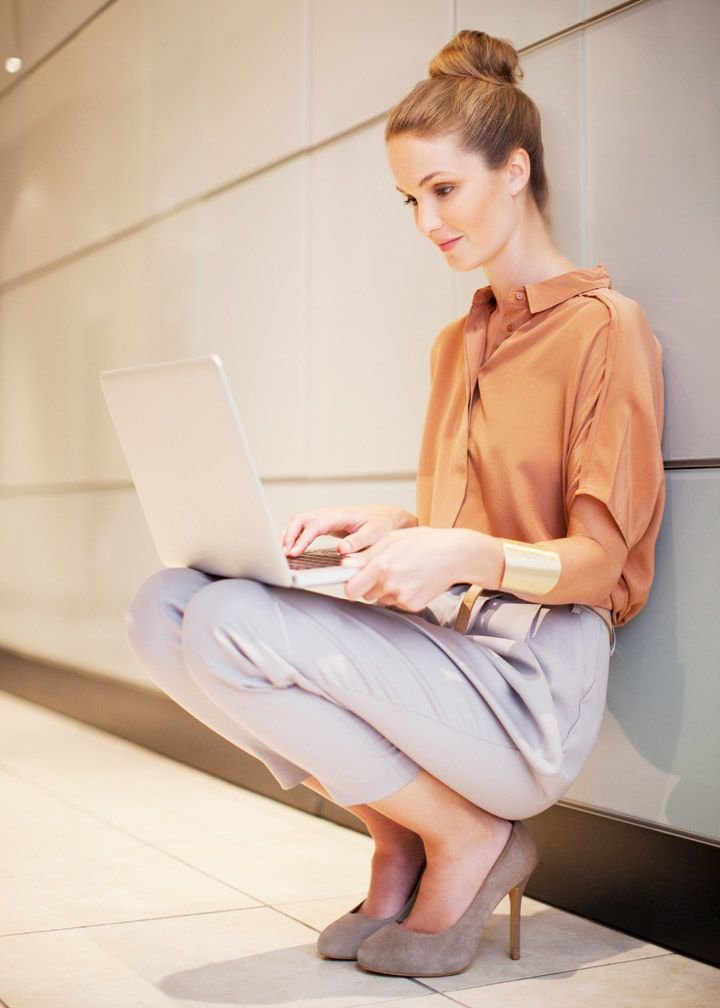 4. Keep it Natural and Loosen up:
Your hair doesn't need to be completely straight or styled every day, simply proficient. Feel free to embrace the natural look. Loosen up your natural hair whether it's straight or waves are a beautiful way to add life to medium or long hair.
Indeed, even simply curling the ends and leaving the top straight can be a pleasant method to give your hair a more styled, cleaned appearance. What matters the most, all things considered, is that you feel confident and comfortable in the workplace.
5. Pin one side back:
During your job interview, you would prefer not to be worrying over pushing your hair out of your face. A style with one side pulled back can be a fair compromise between wearing your hair out and styling it in an updo. This is an easy yet beautiful look to style- twist or bring one side back and secure it behind your ear with a bobby pin.
"To me, clothing is a form of self-expression — there are hints about who you are in what you wear." — Marc Jacobs