India is a country rich in art and culture, diversity, and history, making it a great nation with something valued visiting in each and every state. India is a place of numerous wonders, each with its own unique attraction. If you are planning a trip, this is one of the best places to go. UNESCO has designated several of them as World Heritage Sites. Other than these there are also Most Amazing Places To Visit In Madhya Pradesh 2022 that you should if you are planning for a trip. Here is a list of India's top seven wonders that you must explore.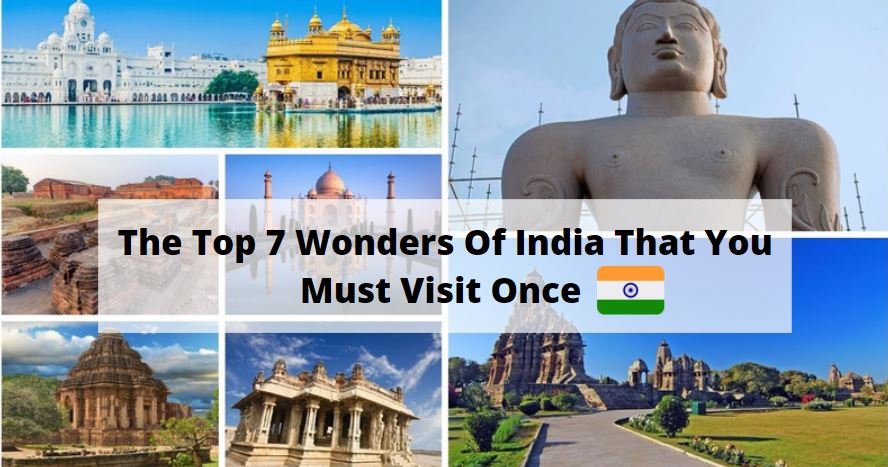 Top Seven Wonders Of India:
1. Taj Mahal, Uttar Pradesh
One of the Seven Wonders of India is the Taj Mahal. This is a white marble mausoleum in Agra, India's northern state of Uttar Pradesh. Mughal Emperor Shah Jahan created the Taj Mahal as a memorial for his loving wife Mumtaz Mahal. The Taj Mahal's colours shift throughout the day as the sun moves from dawn to dusk. The 17-hectare complex is centered on the tombs. It took 20,000 workers, artisans, and 1,000 elephants 22 years to construct. It is not only one of India's seven wonders, but it is also one of the Seven Wonders of the World.
2. Gomateshwara, Karnataka
Gomateshwara is a 57-foot monolithic monument at Shravanabelagola, Karnataka, dedicated to the Jain God Bahubali. The magnificent monument is one of the world's largest free-standing statues and appears to be extremely peaceful and quiet. A single granite stone was used to chisel this giant statue. Pilgrims come to the statue to indulge in the Mahamastakabhisheka. Once every 12 years, the event takes place.
3. Hampi Temple, Karnataka
Hampi is one of India's most well-known historical sites, situated on the banks of the Tungabhadra River in Karnataka. This site has been designated as a World Heritage Site by UNESCO. Monuments, temples, and beautiful architectural remains can all be found there. Achyutara Temple, Hazara Rama Temple, Krishna Temple, and Vittala Temple are a few other prominent temples in Hampi. This temple, dedicated to Lord Shiva, was constructed in the 7th century AD. It is a holy place for Lord Shiva worshippers and draws a huge number of tourists and visitors.
4. Khajuraho, Madhya Pradesh
The Khajuraho Group of Monuments is a sprawling complex of Jain and Hindu temples in Khajuraho, Madhya Pradesh, India. The place has been designated as a UNESCO World Heritage Site in India. To mention a few, there's the Nandi Temple, Chausath Yogini Temple, Varaha Temple, and Kandariya Mahadev Temple. The erotic sculptures and beautiful nagara-style architectural elements of the Khajuraho temples are famous all over the world. The emperors of the Chandela Dynasty built the Khajuraho temples and other sites between 950 and 1050. Each year in February, a dance festival is held in Khajuraho, presenting a variety of Indian classical dance forms.
5. Konark Sun Temple, Orissa
Sun Temple is a complex of ancient temples with amazing artwork and sculptures located in Konark, Orissa's coastal region. King Narasimhadeva I of the East Ganga Dynasty constructed the temple around 1255 CE. The Sun Temple, also known as the Black Pagoda, is a popular tourist attraction. One of India's great wonders is its stone magnificence. A large monument with three depictions of Sun God statues and seven horses hauling 12 wheels is also present. The Kalinga style of architecture is used in the construction of this temple. the three Sun God statues depicting dusk, noon, and dawn.
6. Harmandir Sahib Golden Temple, Punjab
The Golden Temple, also known as the Harmandir Sahib or Durbar Sahib, is Sikhism's holiest temple. It was first discovered in 1574. Its peace and appeal, clean and hygienic ambience, and spiritual solace have made it one of India's most famous wonders. The Golden Temple is open to people of all faiths, giving it a truly worldwide appeal. On a daily basis, there are almost 1 lakh visitors. A pool of holding water surrounds this shrine. Daily, about 35,000 people are served for free by temple volunteers at the Golden Temple, which is the largest langar among all Gurudwaras.
7. Nalanda University, Bihar
It is one of the world's most recognized and ancient study institutes of Buddhist literature, physiology, philosophy, and Vedic science, among other subjects. Nalanda is around 95 kilometers from Patna, the state capital of India's Bihar state. The university prospered during the Gupta Empire's reign and afterward during the rule of Harshavardhana, the monarch of Kannauj. Students from China, Tibet, Persia, and Greece are thought to have come here to get an education and improve their learning abilities. The excavated ruins of Nalanda have fascinated history buffs and travellers throughout the ages, earning it a spot on India's Seven Wonders list.
Conclusion
These are India's Top 7 Most Famous and Awe-Inspiring Wonders So, visit these 7 Wonders for a relaxing and enjoyable experience. You will be enchanted by the beauty, the charm, and the tranquility. Besides the aforementioned India's top seven wonders, there are a number of other historically and culturally significant monuments named Qutub Minar, Delhi, Red Fort, Delhi, Ajanta Caves, Maharashtra, Ellora Caves, Maharashtra, Buddhist Monuments, Sanchi, Jantar Mantar, Jaipur, Kaziranga Wildlife Sanctuary, Assam, Fatehpur Sikri, Uttar Pradesh, Sundarbans National Park, West Bengal, Elephanta Caves, Maharashtra, Group of Monuments at Mahabalipuram, Tamil Nadu, etc.