"Banaras is older than history, older than tradition, older even than legend, and looks twice as old as all of them put together. "
Varanasi, also called Benares, Banaras or Kashi city, southeastern Uttar Pradesh state, northern India. It is located on the left bank of the Ganges (Ganga) River and is one of the seven sacred cities of Hinduism. You might listen to the song Khayike Pan Banaras Wala in the movie Don, Banaras is the center of attraction for cinema too. Almost 59 lakhs tourists visited Varanasi every year There are many things famous in Varanasi such as temple, Ghats, saree, pan, Banaras Hindu University, etc.
FAMOUS GHATS-
you must know about Ghats in Varanasi. There are 87 Ghats in Varanasi but the main group of Ghats around 25 that extends from Assi to Rajghat. It gives a beautiful glimpse of Banaras. There are two Ghats (Manikarnika and Harish Chandra) where cremations are solely performed.
Some of the famous Ghats-
ASSI GHATS – Here Ganga River meets the Assi River at the extreme southern end of the city. A famous Ganga Arti also held at this Ghats. You can see the beautiful scene of Arati through a boat ride.
DASHASHWAMEDH GHAT
Dashashwamedh Gath is the top attraction in Varanasi. It is one of the holiest and oldest Varanasi Ghats where the famous Ganga aarti takes place every evening. According to Hindu mythology, this ghat is created by Lord Brahma for the welcome of Lord Shiva.
Shinzo Abe, the prime minister of Japan attended the Ganga Arti along with Prime Minister Narendra Modi of India in 2015.
MANIKARNIKA GHATS- ( THE PLACE WHERE DEATH ENDS)
Not a single day passes when dead bodies are not cremated here with the number going up to two to three hundred every day. According to Hindu mythology that a dead human's soul attains moksha, and hence breaks the cycle of rebirth when cremated here. Thus, scores of the elderly across the whole country seek to walk up to its edges and spend their last days absorbing the charisma of the ghat making death painless and insignificant to be pondered upon.
. The name of Ghats is Manikarnika because of Maharani Lakshmi bai of Jhansi born here.
2. KASHI VISHWANATH TEMPLE-
Spiritual Capital of the country known as Varanasi, and Kashi Vishwanath Temple is its glory of the Varanasi. It is one of the famous holiest jyotirlinga or sacred centers of Shiva worship spread across India. This ancient Varanasi Shiva temple finds mention in the Puranas. The main deity of the shrine is a linga that is placed upon a silver altar. What is truly fascinating about this temple is that it has been subjected to destruction and re-construction several times throughout history. But the temple has never bowed to the dictates of time and even today, it stands as one of the most popular temples in Varanasi that is thronged by devotees and tourists in thousands, every day.
There is another interesting fact about this temple is that gold dome and gold spire. Lord Shiva will fulfill your dream after seeing the dome and make a wish it is believed by people a historical well is also famous inside the temple.
KAAL BHAIRAV MANDIR-
Kaal Bhairav temple is also very famous in Varanasi, Kaal Bairav is the aggressive form of Lord Shiva.
Kaal Bhairav refers to the aggressive form of Lord Shiva in the
Kaal Bhairav Temple, Shiva is enshrined and worshipped in this fierce form. Kaal Bhairav is regarded as the guardian angel of the city, and the people of Varanasi are known to seek permission from the deity before they leave the city for any reason.
According to the folklore tradition, anyone who visits Varanasi first they visit the temple and get permission from Kaal Bhairav to stay safe in the city.
3. BANARAS HINDU UNIVERSITY
Banaras Hindu University situated in the holy city of Banaras.
This University is famous in India and across the world also.BHU is one of the top 10 universities in India according to the NIRF 2020. This university founded by a great nationalist leader Pt. Madan Mohan Malaviya in 1916. The area of this university is 13300 acres, having well-maintained road, temple, and a good campus which are an architectural delight
.
4. BANARASI SAREE-
A fine variant of Silk originating from the city of Varanasi in Uttar Pradesh, India known as Banarasi Silk is extremely popular in India and across the world.
In India , Mughal brought this craftsmanship.To glorify the art of weaving and designe, Mughals always try their best . During the course of that act, they inspired few craftsmen to work in the intricate art of weaving. It was the beginning of Sari weaving art. In addition, at that particular time, Persian motifs were being mixed up with the Indian customary attire.
Today's Banarasi Silks are the product of this particular mix up of two different cultures and exemplary enthusiasm of Mughals. In the earlier times, silk for Banarasi Sarees
was being imported from China, now it has been provided by the southern part of India.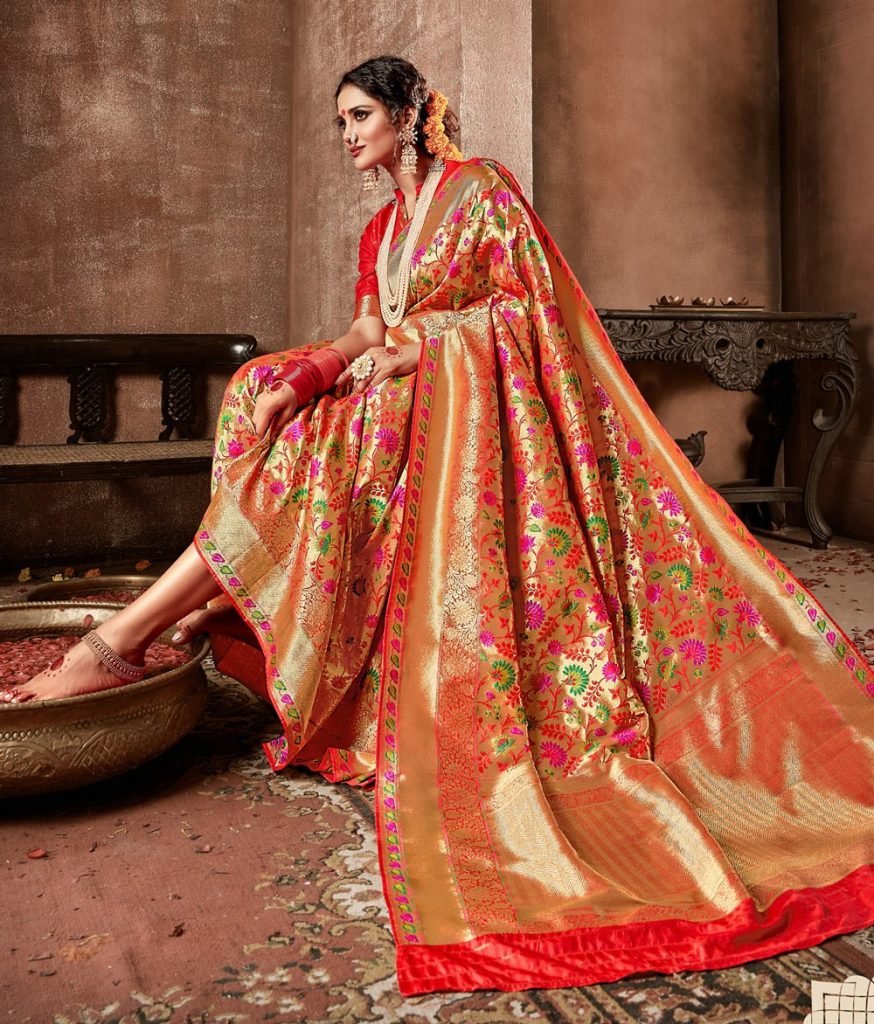 5. BANARASI PAAN-
You might listen about Khaike Paan Banaras wallah" from the movie Don. Such is the fame of Banarasi Paan that it has attracted the cinema too. Banarasi paan is very famous in India, it is almost the same as other paan of any other part of India. But the shape of paan and the making process is very different, this makes Banarasi paan distinct from other paan.
Banaras has an unknown tradition of Paan being served and prepared in every corner of the street. There is no Gali in Varanasi where you couldn't find Paan. These Paan serving and offerings have great traditions from ancient times.