In the realm of marketing, all we need the ability to convince inherent buyers. With such a purpose, plenty of strategies for marketing are formed. Multi-Level Marketing (MLM) is just one of those thousands of ways of marketing. In this mode, a network of distributors is build to sell goods and services directly to potential customers.
Generally, Direct Selling Companies choose this kind of marketing strategy where people are invited to become an agent or a distributor. People who invite to take the membership are called, as Upline. Likewise, the people you recruit and give membership to, are called, as Downline. Recruited members need to buy some pre-specified amount of products and sell them to interested buyers for which they get a bonus or some percent of commission in return. Thus, forming a chain or network of sellers and customers. Therefore, it is also known as Network Marketing or Chain Marketing.
Each marketing strategy has its importance depending on the field where it put into action. However, the sudden burst of this Chinese Pandemic increased the value of MLM, where the loss of employment in bulk can be seen. Nevertheless, companies like Amway, Herbalife Nutrition, Vorwerk, etc. have used this approach and gave employment to many.
In this article, we are addressing one of those MLM Companies- Oriflame Sweden. It counters almost every dilemma from beauty to hygiene, from exotic accessories to healthcare. Their idea is to provide products infused with natural resources and minerals. Thus all the skincare products are based on herb and plant extracts from Sweden.
About Oriflame: Inspired by Swedish Nature, the founders of Oriflame established the company to provide beauty products that do much more than beautification . To them, beauty means to have healthy, glowing, and expressive skin because they believe when one looks good, he/she feels good and create an optimistic approach to clutch the opportunities waiting. The company started in 1967 to provide a source of livelihood, especially to women. Now it has a significant place in over 60 markets with over 3 million independent Beauty Consultants!
The company delivers high quality in every product it sells but most of them are quite expensive and as this pandemic has drastically snatched/ or put on hold our means of livelihood, nobody of us wants to spend money unnecessarily. In such a scenario, hygiene has overpowered the beauty, abruptly.
If you aspire to maintain both, proceed and check some useful products given below, on which you will not regret spending money, for sure.
HairX Advanced Care Brilliant Black Shine Shampoo
This shampoo from the HairX Range is suitable for dull hair.
It has successfully cleared the dermatological test.
It consists of Phytonutrients, Shikakai extracts, and Diamond Powder.
Phytonutrients derive from soybean and sunflower seed oil. These oils help in nourishing and repairing our hair.
This 250 ml of shampoo include Diamond Powder for extra shine.
Shikakai Extracts are responsible for the strengthening of roots and hair. It is white and velvety in texture.
It has a delightful fragrance.
The shampoo lathers adequately, so we do not require much in quantity. As a result, it lasts for a longer time.
It makes our hair soft and sleek, without even using any conditioner. Above all, it has no side effects as hair-fall.
This product from the HairX Range is a concentrated, glossy cream formula.
It conditions and penetrates hair for intense, long-lasting color.
It consists of a developer, a colorant tube that has color pigments, a pair of gloves, and post color treatment.
The structure of its bottle makes the coloring procedure convenient.
Its smooth consistency makes the application process super-easy.
The post color treatment solution locks the color into hair, increase longevity, reduces roughness, and brings the shine.
It detangles the hair automatically.
The product gives even color from root to tip.
This sunscreen is an essential part of the NovAge Skin Care Routine as it contains advanced skin protector and SPF 50, which protects our skin for about 7-8 hours effectively.
It not only protects the skin from the sun but also pollution.
It gives 98% protection from UVA rays and UVB rays as well. That means it reduces burned scars also.
SPF50 and UVA ++++ protect from uneven skin tone, dark spots, and fine lines.
Pollution Protection Technology(PTT) protects our skin from the toxic effects caused by pollution, smoke, and dust.
The anti-aging moisturizer keeps the skin hydrated and slows down the aging process.
Its anti-aging effect makes skin healthy and younger.
Its shimmery texture maintains the luminosity and brightness of the skin.
It absorbs into the skin firmly, leaving it non-greasy.
It gives high-quality coverage means that its single drop is enough for the face.
Ecollagen Wrinkle Power Night Cream
Collagen fiber is responsible for skin tightening and elasticity.
This product is also from the NovAge Skin Care Routine and is for women of above 40 years of age.
It acts as a repairing cream that re-plum the gaps or wrinkles formed on the facial skin.
This night cream embraces all wear and tear caused in the skin.
The product is cost-effective as it lasts for three to four months.
The One Illuskin Face Powder
This powder of The One Range is much appealing due to both its quality and quantity.
It contains SPF 15 and thus reduces one-step of applying sunscreen.
It also contains Halo Light Technology that eliminates years of sun damage.
It does not require any base for its application.
It gives full coverage.
Its Puff is unique and helps to cover the whole face.
Its texture is ultra-thin, which blends with the skin perfectly.
It absorbs the natural skin oils throughout the day and gives a natural matte finish.
The One Color Obsession Lipstick
The One has come up with a range of 10 lipsticks that are simply speechless.
These lipsticks give 8-hour long moisture.
It consists of Gel Crème Formula due to which, it melts when applied and become weightless.
The texture of such an obsessive lipstick is light and luminous.
Its staying power is 4-5 hours, which is considered as very good because after all, it is not matte.
It has a fruity scent, which varies from color to color. Although it fades when applied and makes it comfortable for the wearer.
One must have this product, especially in winters, since it makes the lips remain hydrated and moisturized.
All the shades are intense due to ChromaLoad technology.
All the shades are suitable for all complexions.
Oriflame Omega 3 Capsules
Omega 3 does not produce in our body naturally. Thus, we need it from outside in the form of capsules. These capsules contain highly purified fish oil and some acids like EPA & DHA that improve the total health.
It prevents us from chronic heart disease, maintains cholesterol level, locks moisture to the skin, increases elasticity, and slows down skin aging, reduces inflammation in muscles, and leaves them healthy and smooth. It contains DHA, which is beneficial for the brain- functioning.
Now Why only Oriflame Omega 3 Capsules?
Oriflame develops the capsules in Sweden under the European Quality Standard -the Highest Quality Standard in the World.
It does not have artificial colorants or preservatives.
It uses highly purified fishes from sustainable stock. Small fishes in deep down the ocean are used to make oil. Oil is trustworthy as it is purified through manufacturing processes, which makes it 100% toxic free.
Its upper covering is made up of Fish Gelatin.
The product is tested and found safe for pregnant women, breastfeeding mothers, and anybody above three years of age (Tip: Consult your doctor before intake as everybody has different needs.)
Then comes my favorite product of Oriflame – Milk & Honey Sugar Scrub.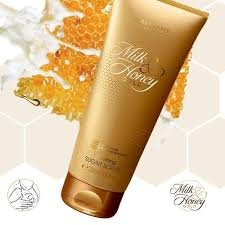 The honey extracts in this exfoliant leave the skin calm while fine-particles of sugar prevent it from getting rough and dry.
It has a soft and gentle fragrance.
Plus-point is that it is solely for Hands & Body. No other company provides this unique feature.
It is ideal for Summer and Monsoon because dead cells accumulate in such weather.
It cleanses open pores and dead cells of hard skin like sole, neck, knees, and elbows. Users even claim that it lighten and remove burned marks enormously.
As soon as you apply it with some drops of water, the sugar granules start melting, which gives a cream-like experience.
Less quantity is required as one teaspoon of scrub efficiently cleanses the whole body.
It makes the skin softer, smoother, and refreshing.
This product from the Milk & Honey range gives value for money spent.
Silk Beauty White Glow Soap Bar
Although all soaps of Oriflame are of high quality in terms of ingredients, size, and packaging but my most favorite is Silk Beauty White Glow Soap Bar because:
The bar consists of white mulberry and cherry blossom extracts.
As the name suggests, it is a white glow soap bar, which makes the skin white if applied regularly.
It removes dead cells so effectively that you instantly feel new and smoother skin.
It is suitable for all ages and all types as well, especially for oily skin.
It has a mild but strong fragrance that you feel for a day or two after a single-use.
It makes the skin as soft as if it is dipped into the milk.
Love Nature range has developed a fabulous shower gel of three variants.
This Olive flavor is the most liked because of its pleasant fragrance.
The gel makes the skin moisturized and dirt-free.
This 250ml of the liquid has three years of shelf life.
It consists of Olive Oil and Aloe Vera that nourishes the body flawlessly.
Its consistency is remarkable as it is neither thick nor runny.
Use it and be germ-free!
As we all know, our feet-skin is a bit harder as compared to the whole body. Therefore, it needs a session of care at least twice a week. Oriflame has launched Mango Infusion in its Feet Up Range, which includes three essential products named Foot Scrub, Foot Cream, and Foot Spray.
All three commodities have Natural Mango Extracts and Exhilarating Ginseng Extracts. Mango Extracts consist of butter, extracted from Mango Seeds. This butter is rich in skin conditioning and some fatty acids, while Ginseng roots are an herbal king.
75ML of Foot Scrub is a gel-based scrub. Its granules remove the dead skin and dirt of feet efficiently.
Foot Cream is a smooth and thick cream that soothes and softens the feet. It also treats the cracked heels. The aroma of mango feels much energizing.
150ml of Foot Spray generally brings the deodorizing effect, which helps in reducing the odor of socks or shoes.
Pro Tip: Use the complete range of the product you employ for best results. For instance, if you are using NovAge SPF 50, then use the complete set that includes a cleanser, a toner, an eye cream, and a night cream. It will give an enchanting results.
I believe these products will fulfill all your needs from tip to toe. Drop your favorite product in the comment section and let me know the other useful products of Oriflame, especially during Lockdown when health is the absolute priority.