Co-working is becoming a trend worldwide. Indore, keeping up with the world, has a few co-working spaces which everyone should checkout. Co-working is more like a culture bringing people closer and cutting off the expenses of owning a personal work space. If you are in Indore and looking for a spacious, startup friendly coworking space, you should check out this list of best and affordable coworking spaces in Indore.
My Personal Recommended Coworking – WorkStudio Coworking Indore
Not just a Coworking space
Work Studio coworking is not only about the office space, but the people and the community of entrepreneurs and their values.
Your Work Space has the power to transform your business.
And we got that covered for you!
With world-class infrastructure, supercool designs, positive & motivating ambiance, Work Studio Coworking brings amazing workspaces to your city, where businesses grow together.
Positive and energetic ambiance, warm welcome, flawless hospitality and lots more.
There is nothing that doesn't meet your expectations.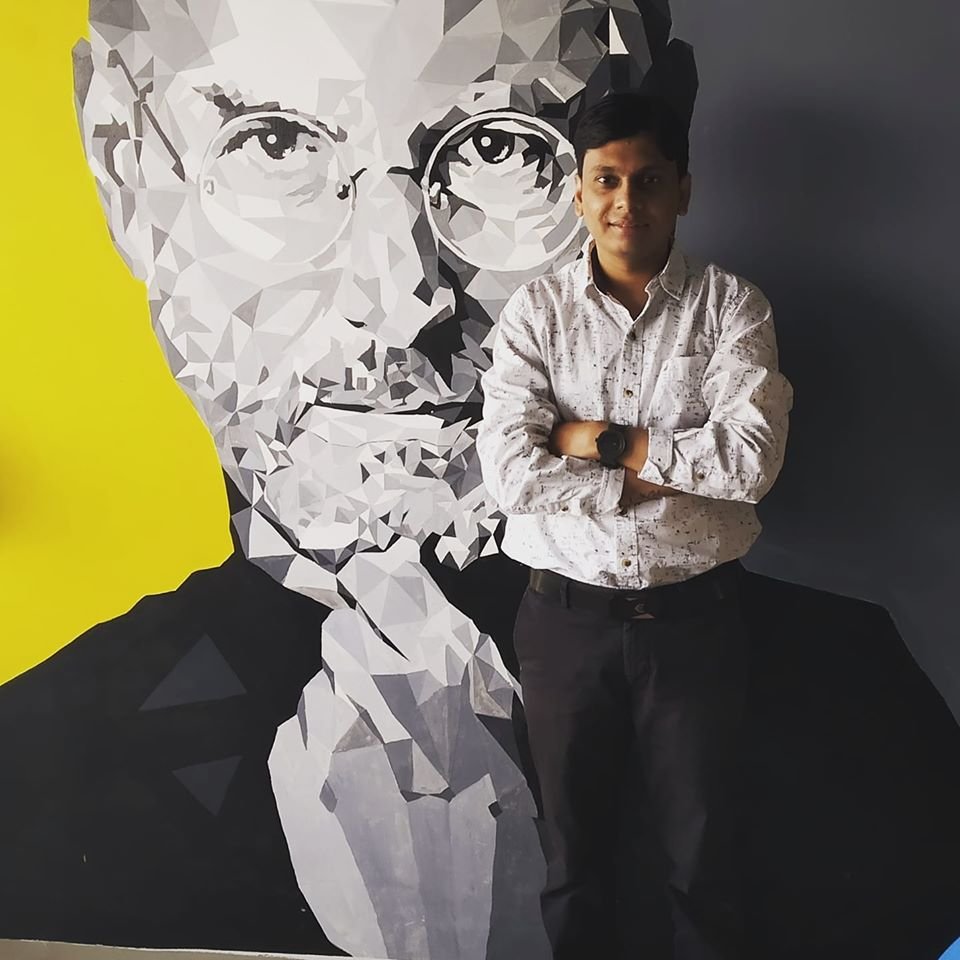 1. Adited – Coworking Spaces in Indore
Adited is the first coworking space in Indore. They provide cool vibes complementary with luxury working space. Their space allows people to network and grow their businesses. They provide food and drinks and also, personal lockers.
What's most attractive is that one can access it 24 hours a day and it also has a chill-out area. The coworking Space organizes many workshops and events. It is a perfect place for an entrepreneur who's also an animal lover. Adited allows the entry of dogs and cats. Adited also provides the facility of printers and scanners for free. You can check out more details about Adited Coworking Space.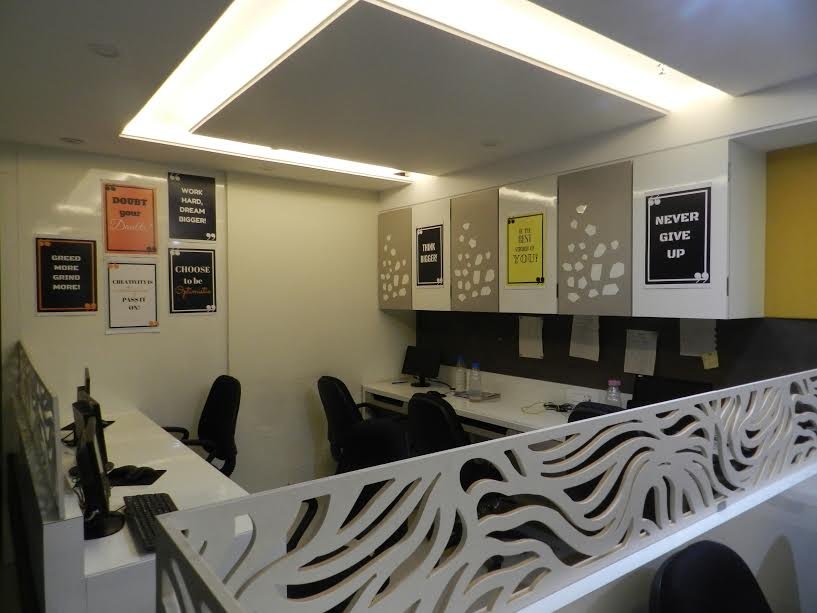 Pricing
Its one-day membership costs only INR 199, whereas for a whole month they charge INR 3499.
Get in Touch
Address: 305, Satguru Parinay, P.U 5, A.B. Road Opposite C21 Mall, Scheme No 54, Indore, India
Contact Number: 08600127993
Incuspaze is a great coworking space which also provides many services for startups like mentorship, contacts and investment. The coworking space is spacious, vibrant and entrepreneur friendly. The interiors are warm and welcoming. Incuspaze offers a wide range of amenities to startups, freelancers and corporate teams. Check out this article to know more about Incuspaze Coworking Space.
Pricing Plans
Its one month membership costs INR 6499.
Get in Touch with Incuspaze
Address: 213, Princes' Business Skyline, Opposite Orbit Mall A.B. Road, Vijay Nagar, Indore, India
Contact Number: 07007966601
Although Regus provides shared serviced office facilities to office seekers, but it is a good option for those who are looking for a premium looking office space with high-end infrastructure. Regus is available over 3000 centres around the world. All you need to pay for is the number of desks you want and the hours you use the space.
Desk reservation facility is also available with Regus. It also provides meeting rooms and kitchen area for tea and coffee.
Get in Touch
Address: DNR 90, Unit Nos. 301, 3rd floor, 569/3, MG Road, Indore
Contact Number: 07314785000
4. Raletta – Coworking Spaces in Indore
Inteligon provides cool workspace, meeting rooms, access to internet and much more. They also provide services to startups like designing, advertising and many more. A member can access the space any hour of the day. They also conduct many events for networking and business development.
Get in touch with Raletta Coworking Space
Address: 142 GNT Market, Dhar Road, Indore.
About Sky Space
Sky Space Coworking in Indore is created to offer shared offices & workstations for people who want to work on their own projects while exchanging knowledge, ideas, and inspiration with others.

A coworking space is a place where you can go daily, sit down at a desk, and work among like-minded people in a structured atmosphere. It offers an office-style environment that fosters all the autonomy an entrepreneur could want without any of the politics. If you're an entrepreneur working from home, have you considered the benefits you could enjoy from the coworking space? It's a different way of looking at things
Contact : 3rd floor Skyspace, 290-291, PU4,
Behind Malhar Mega Mall,
Vijay Nagar, Indore 452010
Call – +91 – 91114 – 43556
The nature of work is changing. Projects are flexible and so are teams. Antares offers companies of all sizes a variety of office space solutions from co-working, to business centers, to made for you offices.
201 Princess Business Sky Park AB ROAD
INDORE 452001Tel: (+91) 731-479420
Breaking the paradigms of collaborative working, Nexus Spaces provides you premium professional environment and a host of amenities to make your work more comfortable here. Nexus Spaces make your work hassle free, keeping office management, stationery and infrastructural requirements at its bay. Nexus provides spaces for both small and medium enterprises as well as freelancers. Small and medium enterprises have a lot on the plate and so, to preserve their time on managing office infrastructure; we have designed some enterprise sections having a cubicle for the team lead and ten people, small rooms, private cabins, conference rooms and open and closed meeting areas for our clients.
Contact – https://nexusspaces.in/
WHAT IS WORKIE
To under to same concept, Workie is a structure that goes beyond the commonly understood coworking: The meeting place of professional interests in which the individual, but also companies, can grow and develop. we prefer that our professionals choose this place to develop their profession over time, and use the structure to grow and increase their job opportunities and opportunities for meeting and exchange.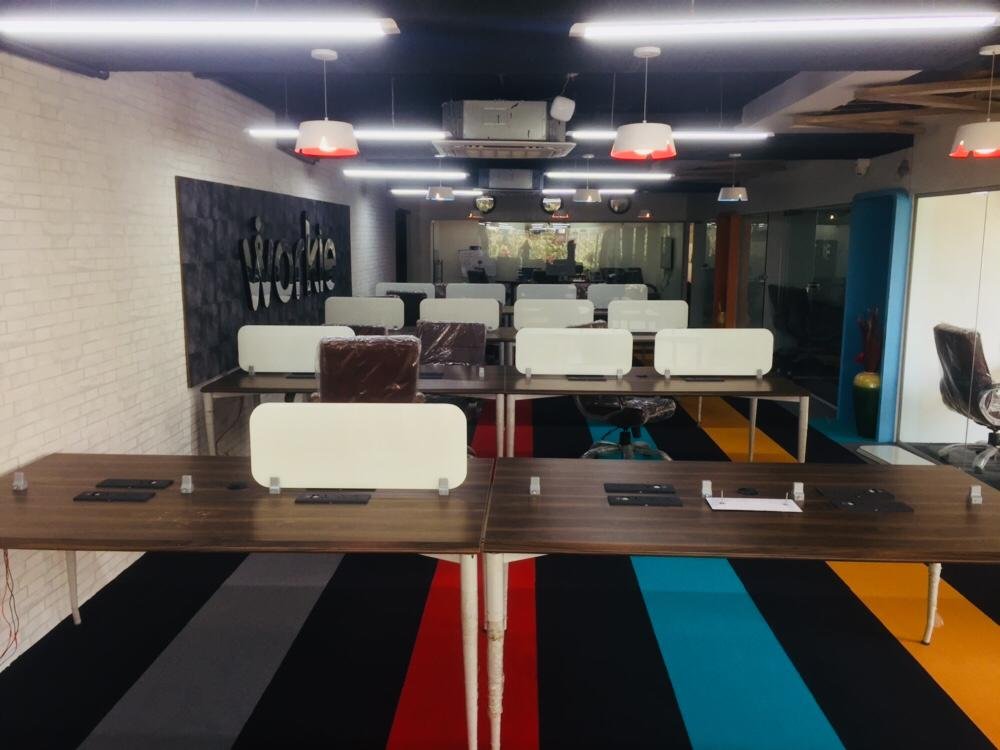 VISIT OUR OFFICE -SPS, 365 Janjeerwala square Indore
LET'S TALK Phone: +91 7879246246 Phone: +91 9691345678