"CALCUTTA is not for everyone. You want your cities clean and green, stick to Delhi. You want your cities rich and impersonal, go to Bombay. You want them high-tech and full of draught beer, Bangalore's your place. But if you want a city with a soul, come to CALCUTTA."

– Vir Sanghvi
KOLKATA – Also considered as the 'City of Joy' is not only famous for its rich history, literature and architectural specimens but it is also a paradise for food lovers in the world. You must have heard about Roshogolla and Sandesh and may have even tasted these cultural delicacies. But when it comes to Kolkata cuisine, there are endless mouth-watering dishes that Kolkata has to offer, especially for people with a sweet tooth.
When it comes to Bengali cuisine, every district of Bengal has some unique dishes to offer, starting from Langcha in Bardhaman, Jaynagar's Moya, Sarbhaja in Krishnagar, Khirmohon in Murshidabad, the list is endless.
Following the Bengali Tradition, Culcutta cuisine and street food offers some unique food items that will make your mind 'go bananas'. So, whenever you are planning a trip to this paradise, never forget to relish these Bengali dishes and enjoy the authentic flavour of our old delicacies.
** If you are willing to try Kolkata cuisine or street food, do not and I repeat do not expect it to be healthy. The fact that makes Kolkata dishes so yummy is our cravings for extra sweets, oil, butter, ghee etc. Kolkatans have a habit to put sweet and Aloo everywhere so be prepared. Rest assured you will relish each and every Kolkatan dishes.
---
Basic Dishes in Kolkata Thali
Bashanti Rice
Saag Bhaja
Shukto
Luchi
Daal
Jhuri Alubhaja (Potato Chips)
Posto
Macher Jhol
Kosha Mangho / Chicken
Amm Chutni
Papad
Roshogolla
Misti Doi
---
A Must Try Culinary Dishes In Kolkata
1. Kolkata Biriyani
"Kolkata Biriyani is an emotion."
The Kolkata Biriyani lies in the heart of this city. You just cannot leave Kolkata without tasting this Biriyani. This hallmark biriyani with a rich history of more than 150 years is prepared in the Awadhi Style and consists of flavourful Basmati rice cooked with rich spices and subtle aroma including flavoured chicken/ mutton, egg and Kolkata special 'Aloo'. The fact that makes Kolkata biriyani different than Lucknowi or Hyderabadi biriyani is the Aloo, egg and the subtle aroma excluding too much spices. It is actually a much milder version than other forms of biriyani. You will find biriyani in every restaurants on a street here and Kolkata has more count of restaurants or Dhabas than any apparel, cosmetics or kirana shops combined. If you find the biriyani a bit dry, a suggestion is to order Chicken Chap as it completely goes with the mild flavour of Biriyani.
Suggested Places – Arsalan, Aminia, Oudh 1590, Dada Boudi r Biriyani in Barrackpore, Royal Indian Restaurant in Chitpur, Zeeshan.
2. Kosha Mangsho (Mutton Curry)
Another recipe that Kolkata is famous for is Kosha Mangho or Mutton Kosha. Infact the city has the best quality of mutton as compared to other states. It consists of mutton or goat meat cooked with a variety of vegetable and spices, specially chilli powder. Now there is no particular recipe for this dish the taste differs from place to place. It is generally deep brown in color with a heavenly smell and the taste is just….'divine'.
Talking about Mutton, there is place in Kolkata called 'Golbari' in Shyambazar 5 point which is worth mentioning. This place is regarded as the Mutton Hub for meat lovers. It is famous all over Kolkata for its mouth-watering Kosha Mangsho and is always remains crowded no matter what time of the day it is. If you are ok with spicy food, you are most welcome.
Other Suggested places – Oh! Calcutta, 6 Ballygunge Place, Bhojohari Manna.
3. Bhetki Paturi
Bhetki Paturi is another enticing dish in the Kolkatan delicacy which you just can't miss. The Paturi can be made with any type of fish but generally goes well with Bhetki mach ( Asian Sea bass ) and Illish mach (Hilsa fish). This is a traditional preparation where boneless Bhetki marinated with mustard and other ingredients are wrapped in banana leaf and cooked in low flame. Paturi has been a part of Bengali cuisine for ages and the recipe has been improvised to include, 'Chingri macher paturi', 'Rui macher paturi', even 'Chicken er paturi'. You can have Bhetki Paturi with steamed rice with little gondhoraj lebu and lonka (chilli).
4. Shukto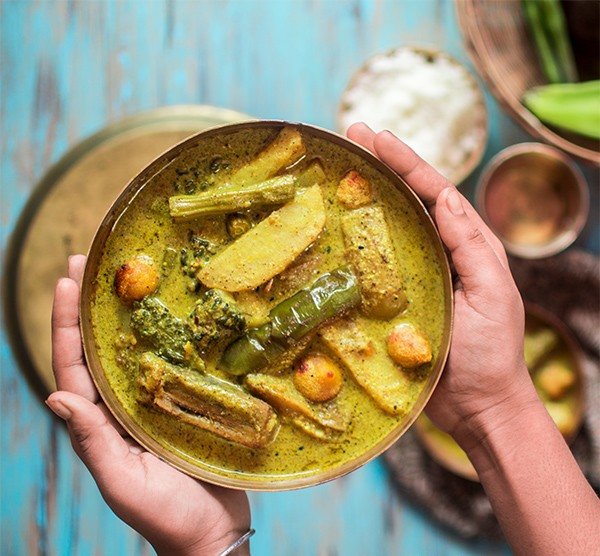 If you are not a meat-admirer, this dish is definitely for you. Considered as one of the best vegetarian Bengali recipes, Shukto is basically a mix vegetable curry cooked in mustard oil with the flavor of paanch phoron, and ginger paste. A preferable recipe for lunch, Shukto is generally consumed at the first even before daal and mach. Shukto is mainly a home-made dish and includes goodness of vegetables like bitter gourd, neem leaves, sweet potato, Bengal gram, raw banana, French beans and drum sticks etc. It is a suggestion that instead of trying to find best restaurant for having Shukto, try this at home as the renowned restaurants tend to diminish the mild flavor by adding more spices.
Suggested Places– 6 Bullygaunge place, Oh! Calcutta.
5. Aloo Posto
Aloo Posto is a Bengal classic. The delectable flavors of potatoes mixed with green chillies and nigella seeds for its taste. What stands out is the flavor of poppy seeds, which also gives taste and texture to the gravy. It is a typical vegetarian dish consumable with only Bhaat and daal. It does not include onion or garlic but you can add it according to your taste. The preparation of Aloo Posto is much simple and takes lesser time but the taste is going to stay with you forever. Again, this is a home-cooked dish and should preferably be home-made rather than spending bucks at high quality restaurants.
Suggested Places – There is no particular places to hop for Posto. It is a very common dish and is served wholeheartedly by all food joints.
---
Street Side Specialties
1. Phuchka
Talking about street side specialty, the first that comes to every Bengali's mind is Phuchka. Also known as Pani-puri, Golgappa or Gupchup in other states, this snack cannot be separated from the heart of Bengalis. You can find Phuchkas in joints, roads and crossroads of Kolkata. The crunchy coating along with savory taste of 'tetuler jol' (Imli Chutney) and delicious 'aloo makha' will touch every taste-buds in your mouth. The fact that makes Phuchka so famous here is their easy availability and low price. Currently you can get 6 Phuchkas in 10 rupees. Unlike pudina water or mint water, Imli water is used for Phuchkas here. You can find different varieties like Dahi Phuchka, Mithi Puchka etc. In the Phuchka stall you can also try ghugni, Aloo kalbi, Churmur, Dahi vada etc.
2. Kathi Roll
Another Kolkatan speciality is Kathi Rolls. The Kathi rolls in Kolkata is assumed to have originated from Nizam's, a Mughlai Restaurant, claims to have invented them as a snack to make kebabs for the Britishers. Afterwards it became popular in the other parts of Kolkata. Mainly a chicken dish, is now improvised to accommodate egg, fish, mutton and paneer for visitors. They are mostly made up of flaky Parathas rolled up with cooked chicken/ mutton with onions, cucumbers and sause. The egg-Chicken roll is the most common of all.
Suggested Places- Anamika Roll Center near Triangular Park, Hot Kathi Roll at Park Street, Nizam Rolls in New Market, and Kusum's at Park Street.
3. Telebhaja
Telebhaja, meaning 'fried in oil' is a quintessential part of the Bengali cuisine. Bengal, still retaining a conventional delicacy of eating by hand, telebhaja is most enjoyed in monsoons with a cup of tea. Starting from Phulluri, Aloor Chop, Beguni, Piyanji, soya chop ,mochar chop, ammer chop, the list is never ending. They can be brought at a cheap price from local food stalls. A piece of Telebhaja generally costs from Rs. 3 to 10 depending on the type. They can be accompanied by Muri (Puffed Rice) , mustard oil and onions with complimentary ghost stories from elders. Apart from proper Telebhaja you can also try Samosa, Chicken Chop, Deem er Devil (Egg chop), Chowmin, Jelebi, fish fry, Mughlai, Nimki, Khasta Kachori, Kabiraji etc.
Suggested Places – Kalika Mukhorochak at College Street, Dacre Lane, Laxmi Narayan Shaw and Sons.
4. JhalMuri
Jhalmuri is one of the most popular street food found in every cross roads of Kolkata. This Kolkata street snack made up of puffed rice with assortment of mustard oil, vegetables, chanachur (mix), badam, Jhuribhaja etc. From couples at Victoria Memorial to students returning from school/ colleges and kids at park everyone – Evenings are incomplete without Jhalmuri. Along with Jhalmuri you can also try Papdi Chat, Bhelpuri, Batata Puri, Ghoti groom , Amra Makha, Peyara Makha etc. These food items are very common in the streets of Kolkata.
---
Must Visit Eateries in Kolkata
Dacre Lane – Food Heaven for all the office goers in Kolkata. Must try toast and Chicken Stew.
Park Street – Peter Cat's Chelo Kabab (Personally not preferable), Mocambo Restaurant.
6 Bullygaunge Place – Authentic Bengali Cuisine
Oh! Calcutta – Flagship Bengali Restaurant.
Arsalan
Aminia
Koshe Kosha – Non-veg curry
The Indian Coffee House – Heritage Café
Bhojohari Manna
Oudh 1590
Flurys – English Breakfast
Aaheli in Jawaharlal Nehru Road
Mitra Café in Shobha Bajar.
Some of my personal favourites are – Ambar Restaurant in Park Street, Oudh 1590, Mocambo, Sher – i-Punjab beside Dum dum Airport, 6 Bullygaunge Place, Changua in Chadni Chowk etc.
I tried to mention all the food items available to my best knowledge but since there is no such specified recipe, the number of varieties keep evolving every day. The city of Kolkata provides the highest number of eatables in comparison to any other cities and at the lowest price. So, if you are planning to visit Kolkata do not forget to do a thorough research on Kolkata Foods.
"KOLKATA – An endless story of food, culture and people

– Ranita Bhattacharya
You can follow me on :
My LinkedIn Account- https://www.linkedin.com/in/ranita-bhattacharya-671053170/
My Instagram Account – https://www.instagram.com/ranitabhattacharya76/?igshid=m5f5pyea4vq1