"Art is something that makes you breathe with a different kind of happiness."

-Anni Albers
India is one of the most culturally diversified country ever known to human civilization. Indians, to bloat about their cultural souvenirs, thoughts and past lifestyle, have always transfigured their emotions through various arts and crafts. Every culture has represented their distinct and traditional vibrancy through different art forms.
Each region of India has multiple art forms each with distinct style, pattern and traditional significance. Thus, Indian art embraces various artistry works in the form of paintings, sculpture, sarees, pottery, handicrafts, dance forms, miniature paintings, wall paintings etc.
However, with rapid modernization taking over, their old grandeur is being shadowed by digital arts. So, these are some of the art works that you should know about before they are lost forever.
---
1. Madhubani Paintings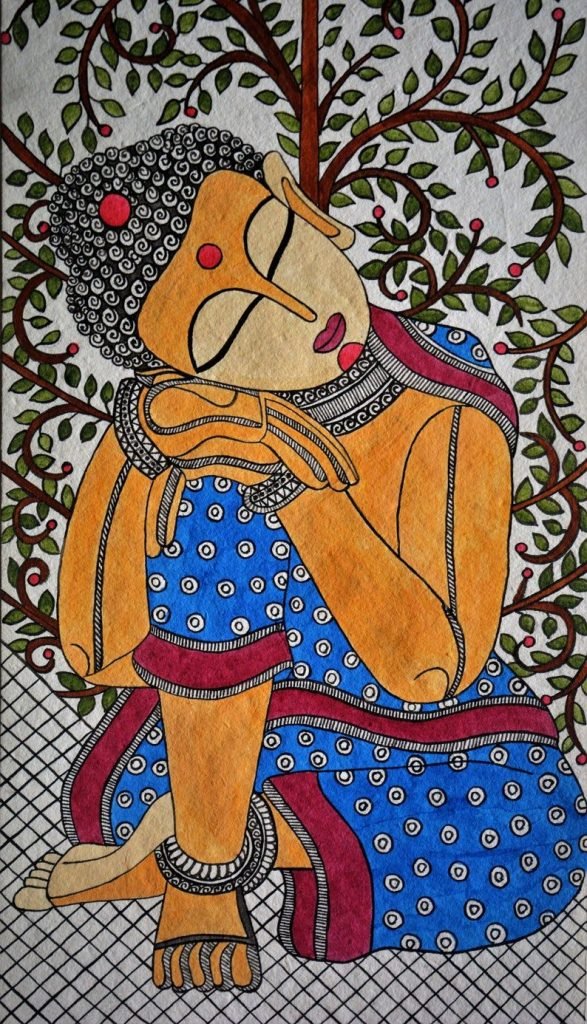 Madhubani paintings originated from the Mithila region of Bihar is one of the most traditional form of wall art. Discovered by British colonial William G. Archer in 1934 while investigating the 'Madhubani village' after the devastating Bihar earthquake, these paintings was originally drawn on the interior of the walls by the women of the family. These paintings are famous for their intricate colour patterns , symbolic designs and simplicity. Most of these paintings revolve around Indian mythology, comprising of Hindu gods, nature, various deities, social gatherings, weddings, court scenes etc. Floral, animal, bird motifs and geometrical shapes are used to cover the gaps.
Today,with the growing demand, government of this region is also supporting the work which is now done on canvas, cloth and papers to make it commercially available. These paintings have become a primary source of income for most of the households of this region.
Interesting Fact
In their effort to stop deforestation, in 2012, a bunch of skilled artists painted vibrant masterpieces on barks and trunks of trees to restrain people from chopping them. And voila, not a single painted tree was chopped! The highway number 52 of the Madhubani district is still a well known tourist attraction today.
2. Dhokra Art
Dhokra, is a tribal art form, whose origin dates back 5000 years. The art consists of ancient method of making metal artefacts by the metalsmiths of Bengal- the Dhokra Damar tribes specially by using bronze and copper alloys. The beauty of these artefacts lies in the use of natural raw materials, giving them a rusty iron look with golden finish. These lost wax techniques are time consuming and often take 1-2 months to complete a single artefact. Most of these artefacts are human or animal figurines, however you can also find dhokra bowls religious deities and lamps jewellery boxes, tableware, caskets and more. The product of dhokra artisans are in great demand all over India and forign places like Milan, Paris, London etc.
3. Patola Saris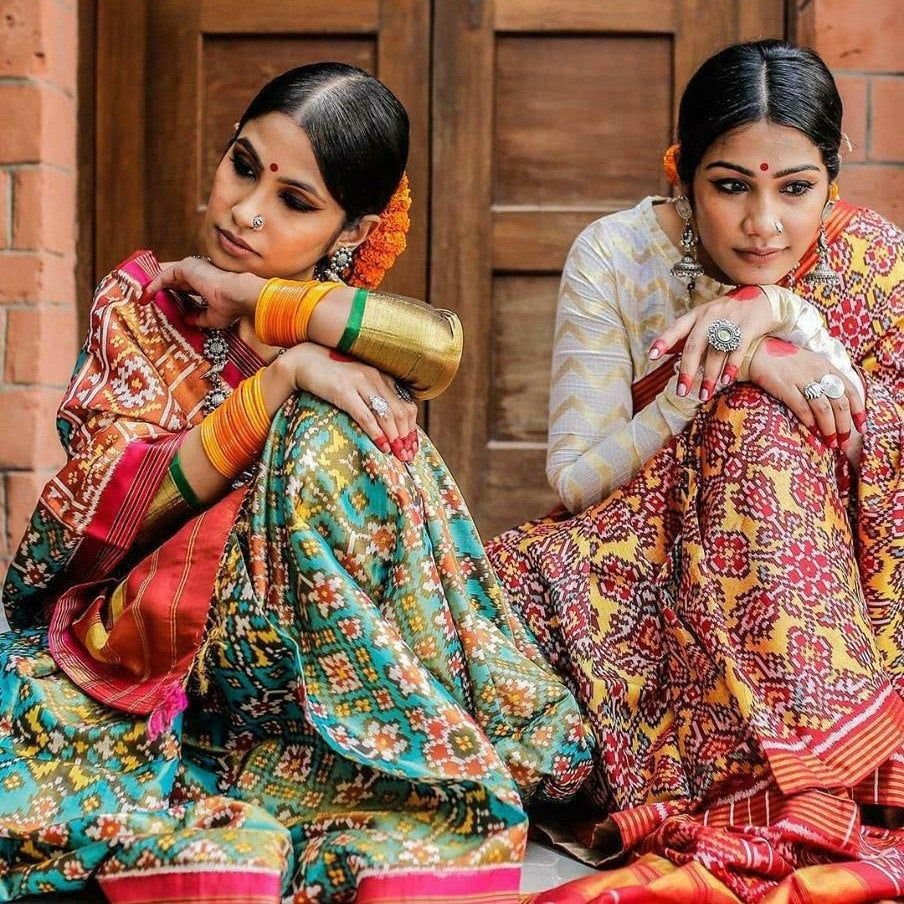 Patola Saris, made from part ikat work are usually silk saris made in India and Pakistan. Patola or Patolu saris were once worn by members of the royal family and hence very expensive. These saris are generally famous in aristocrat families who can afford high prices. The costliest sari was priced at almost Rs. 7 lakhs. The saris are very rare and the original ones are only woven by 3-4 families in Gujrat. Manufacturing one Patola sari can take up to 6 months with a lifespan of 300 years without removing the colour. It takes at most 70 days to colour the silk threads and 25 days to weave the sari. This type of art is considered very complex and only male members of the family are allowed to perform it. Patola saris from Surat, Ahmedabad and Patan are mainly famous for their vibrant colours and geometrical style.
4. Miniature Paintings
Considered as the milestone of Indian Art, Miniature painting was first introduced by Mughals who brought the art form from Persia, in 16th century. Slowly trained Indian artists started to meld, Islamic and Indian elements to create highly detailed art form. With time, the Rajput Miniature painting became very famous in Rajasthan which cantered around Lord Krishna and the mythological literature of Ramayana and Mahabharata. It includes portraits, court scenes, dancing, hunting, music parties, nauka vihar (lovers travelling in a boat), Krishna Lila, Bhagavata Purana and various other festivals like Holi, Diwali, Durga puja, and Dussehra. The Kishangarh style is quite renowned for its distinct figurines with highly exaggerated features like long necks, large, almond shaped eyes, and long fingers. These paintings are generally made on paper, silk, ivory panels, wooden tablets, cotton, leather, marble, cloth and walls.
5. Patta Chitra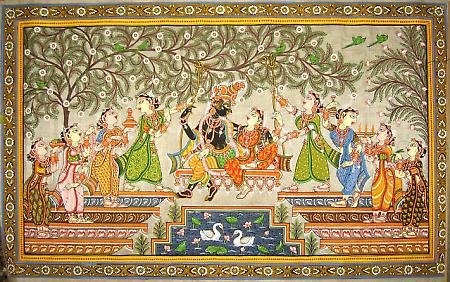 Originated in 5th century, this indigenous art form traditional, cloth-based scroll painting based in Odisha. The word Patta Chira came from the Sanskrit word 'Patta' meaning canvas and 'Chitra' meaning picture. Like other traditional paintings, it includes mythological narratives with unique dressing style inspired by the Mughal Era. The paintings are manifestoed with rich colours, creative designs, motifs, and a combination of simple, classical and folk elements. The unique style of preparing the canvas for the painting includes tamarind paste also known as niryas kalpa, which is used to hold the cloths followed by polishing with stones and woods. In Patta Chitra, the Chitrakars or the painters usually use single tone colours to depict dark emotional expressions of the deities. With time and commercialization, chitakars have now started to paint in tussar silks, palm leaves and wall hangings.
Interesting Fact
In the mordern times, Chitrakars are using these paintings to rise awareness about geopolitical events and social issues like carnage at Nandigram, Mumbai blasts, HIV, unemployment and climate change.
6. Puppetry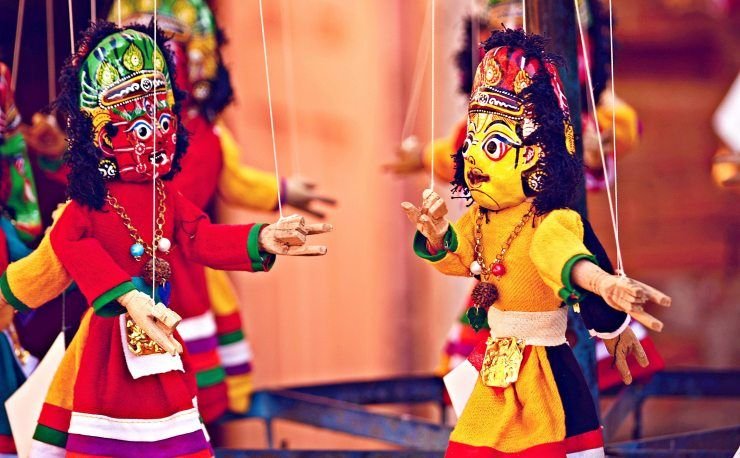 Though the origin of Puppetry is highly debated, it can be estimated that Puppetry originated in India approximately 500 years before Christ. Puppets or 'Kathputli' is an ancient form of folk entertainment performed by a group of puppet experts. It is one of the oldest forms of theatre narrative and was equally popular among the young and old. The stories of the traditional puppet theatre a are generally based on puranic literature, local myths, urban epics and legends. They all have their own distinct identity, nature, style and accent based on the regional diversity in India. The traditional puppetry is considered as a creative form of expression where the puppets can not only speak but also involved in dance, drama, singing, music etc.
The Indian Puppetry forms involve:
string puppets
shadow puppets
rod puppets
glove puppets
Interesting Facts
Apart from the being the oldest form of entertainment, the Indian Puppetry is also considered as the oldest form of social and moral education in India. It continues to tackle problems like dowry, women empowerment, illiteracy and cleanliness in most parts of rural India. In the early 19th century, a small community in Rajasthan called the Nat Bhats even used this art form to spread awareness about the independence struggle.
7. Chau Nach
Chau Nach also known as Chhau, is a rare, semi-classical dance form performed by individual wearing distinct face masks. Traditionally this dance form originated in India and came to be known as – the Purulia Chau of Bengal, the Seraikella Chau of Jharkhand, and the Mayurbhanj Chau of Odisha. This art form usually has a religious significance and celebrates the styles of martial arts, acrobatics and athletes in their tribal and folk traditions. This dance has a rhythmic expression set in traditional folk music where male dancers perform at night in an open space. The costumes vary with styles and clay masks are used to identify the character. The Chau Masks are made by the artists of the Sutradhar Community and are registered under Geographical Indications. In Odisha, however, the masks are not used.
8. Pashmina
Pashmina is a delicate form of spun cashmere obtained from the downy undercoat of the Himalayan mountain goat which live at high altitude (above 15,000 ft./5,000 M.). The quality of wool depends on lower temperatures. The fur from the goats also known as Changthangi goats provide both cashmere and pashmina which is used to make plain shawls, Jacquard Weave Shawls, stripes and checks patterns, printed and embroidered clothes. It is said that Pashmina cashmere shawls were first made by Mogul craftsmen for Emperor Akbar for his wives and in the early 19th Century. Till today it is known for its varied designs, colour combination and exceptional quality. A pure pashmina shawl is so fine that it can be pulled through a normal ring, hence also known as 'the ring shawl'.
9. Gond Paintings
Characterised by a sense of belonging with nature, the Gond painting is a traditional and folk art form practiced by one of the largest tribes in India- The Gond tribe hailing from Maharashtra. It is also common in Andhra Pradesh, Maharashtra, Chhattisgarh and Odisha. Gond paintings can also be described as 'on line work'. The paintings depend on perfection of line which gives a sense of movement to these images. Dots and dashes are also added along with bold and vibrant colours. The colours are made from charcoal, coloured soil, plant sap, leaves and even cow dung. The artistry consists of mythological tales, oral histories, traditional songs, natural surroundings and important events and rituals in with great intricacy, rich detailing, and bright colours. The Gond painting have been showcased in exhibitions in many parts of the world. The prices can range somewhere between INR 2000 to INR 2,50,000 /-.
10. Chamba Rumal
The craft of Chamba rumal, also known as handkerchief painting, is a remarkable form of embroidery originating from the state of Chamba in the Himalayan region. The evidence about Chamba embroidery dates back to 15th century in the Buddhist literature where women including members of the royal family, in Pathankot, Chamba and neighbouring villages used to practice this work of artistry. The style of Chamba embroidery is influenced by the cultural life of the region. The embroidery depicts a fine, delicate and perfect manual work on very fine silk cloth obtained from Punjab or muslin cloth from Bengal. The dorukha stiches are done with bold and contrasting colours and portrays Ramayana and Mahabharata scenes from Indian mythology, Pahari miniature paintings, Ragas and Raginis, the game of Chaupad, Ganesha, hunting and marriage scenes, the Nayikas and often episodes from Raslila of Radha and Krishna.
---