Cinema originally was used as an instrument to express ideologies, sufferings, culture , way of living of the ordinary folk in India. Great actors took bollywood at its zenith till the 1970 and after 1990 it has only declined its standards in actors and performances.
The idea of cinema faded away when making movies became nothing but a race of money and limelight and propaganda. Like Adolph Hitler used cinema as a weapon to make nazi ideologies and nazi propaganda to reach the german people as great german directors like Leni Reifenstal and pabst were persuaded to make movies that carried Hitler's vision.
Indian cinema on the other hand degraded much because of actors would'nt let go of the limelight and after 1990 Indian cinema industry became a joke as no real content ,philosophies , art or culture remains as they started promoting western way of life in the stead of Indian culture. But south Indian cinema was then rising with principles and Indian values but was frowned upon because of petty causes such as low camera quality and poor action sequences. But now South indian industry has become a roaring industry ie. Tollywood that promote s Indian way of life mwanwhile bollywood has drowned in petty reasons and excuses ignoring talents in singing , acting and cinematography and as you have heard nepotism has emerged.
But there are some directors and actors that do what they have to do regardless of how industry treats them and they give Bollywood a certain edge that separates them from the dark side of indian film industry.
An American director once ,
you dont have to know how to make a movie. You dont have to go to am movie school you dont have to know the 3d 4d screw all that. If you love cinema with all your heart. You cant help but make a good movie.
Here are some movies that will make you think twice and fill your head with questions and leave you puzzled like never before you see Indian cinema with with whole new level of appreciation and respect.
1. DASHING DETECTIVE
Dashing Detective is a 2017 Indian tamil action thriller film written and directed by Mysskin.The film and its titular protagonist were both loosely inspired by British writer .The film narrative centers around kaniyan pongudran ,a detective who starts investigating the dissappearance of a kid's pet dog and soon finds himself threatened by the criminal behind a much bigger conspiracy.
This film received acclaim and eventually became a commercial success directed by Vishal,a sequeal is set to be released in 2020 with Vishal and Prasanna reprising their roles.
2. PHOBIA
Phobia was released in the year 2016 directed by Pawan Kripalani. It is a story of Mahek who is a young girl that gets assaulted by a taxi driver while returning from a party and is mentally scarred by the incident. She develops agorophobia (fear of crowd) and she suffers greatly and becomes unsociable out of this phobia and alone shifts in a new apartment leaving her home abandoning her sister and niece. Still in her apartment she faces fears and visions of being threatened mentally by her fear. It takes her a lot of time and experiences to finally step out and face her fears.
The movie shows the experiences faced by people with phobias that the world does not understands. And the movie makes you feel afraid on levels with jumpscares and gruesome visions.
3. BYOMKESH BAKSHY!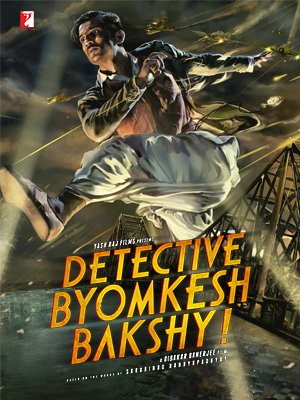 Byomkesh Bakshy was released in 2015 and it was one of most underrated movies. It was directed by Dibakar Banerjee based on stayanweshi and arthamanartham; by Sharadindu Bandopadhyaya.
It is a story of Byomkesh, a young man freshly graduated from college who has certain qualities of deduction and observation that gets him in trouble and nevertheless , he agrees to investigate a disappearance case of an old man Bhuvan in the midst of what appears to be a critical situation between indian independence but is a big conspiracy.
The whole movie is a suspense thriller delivering goosebumping scenes and satisfying scenes of deducing and observing giving a detective's perspective and mind process .
4. RATSAASAN
Ratsaasan was released in 2018 and was directed by Ram Kumar > It is a story of Arun who gives up on his dream of becoming a film director and chooses a profession of a policemanafter his father's death. After facing a murder case he encounters a psycho killer and tries to track the killer paying a rally big price.
The movie leaves the people thrilled as Arun gets mentally played by the killer whose motives remain unknown until the very end.
5. THADAM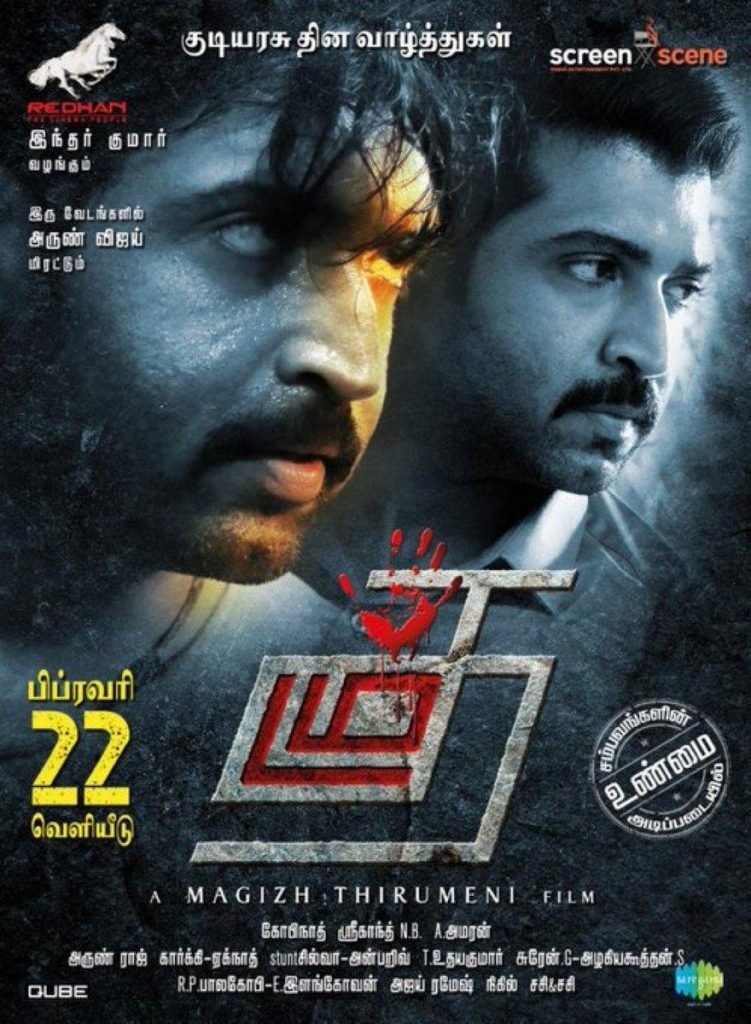 Thadam was released in 2019. the director was Magizh Thirumeni. It is about a murder that leaves everyone clueless and the police tries very hard but the suspect has a lookalike. And police looks like fools when even their hardest of evidence fails. The two has very different lives and lifestyles.
One is a paid con artist and the other one is a corporate employee. Both are happy with their lives but this murder leaves them in quite a dilemma.
6. TABLE NO.21
TABLE NO.21 was released in 2013 ,was directed by Aditya Dutt . Its about a couple ,Vivaan and Siya who belong to a struggling middle class and they suddenly get an opportunity by an anonymous man during their vacation to win an enormous amount of money if they play a mysterious task game but the activities turn out to be more dangerous everytime and eventually open a doo to a dark past.
The movie plays with mind of viewers as the game introduces cruel tasks that are disturbing as much as they are unveiling of a mystery.
7. BADLA
Badla was released in the year 2019 , was directed by Sujoy Ghosh. It begins as Naina , a successful entrepreneur and businesswoman who is married with a child living a happy life. She gets caught in a serious accusation when her secret affair is unveiled as her lover is found dead in a hotel and she is found unconscious in the same room pleading to be innocent.
She then hires a reputable lawyer who has never lost a case and discuses the case and finds answers and unveil secrets that can turn her life upside down.
The movie focuses on individual stories of the characters and gives out small details that play big roles in the end to find the answers that decides Naina's future.
Written by -Sunny BORDIYA